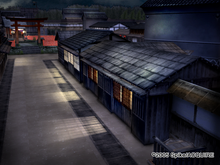 Sengen Town (千軒町 Sengen-cho), also spelled as Zengen Town is one of the mission locations in Way of the Ninja and Revenge of Zen, and one of the most frequent locations for story missions. Based on the picture of the whole map of Utakata, it appears as though Sengen Town is right in the centre, with Utakata Castle to the North, Honsho Shimoyashiki to the west, Murakumo Fortress to the North East, Kongo Pass to the East and Negishi Pavilion to the South West.
General Information
Edit
Type: Town
Navigation: Easy
Amount of Enemies: Decent
Obstacles: Few
Total Exits: Two
Map Size: Medium
Frequency of Missions: Common
Exploration
Edit
This map has two exits: North-East and South-West, the player may start the mission from any of them. The terrain is flat and there is no ground elevations besides the river that courses half the town. A small shrine occupies the center of the map and usually has some items for the picking, if the enemy doesn't take them first that's it.
Navigation in this map is extremely easy thanks to the lack of elevations and high buildings; on the downside there is little place to hide if one is found. For a quick scouting just jump to the rooftops, you won't need the Grapple Hook here, and run freely from roof to roof.
There is a Watchtower west of the map, near the river; two Dog Kennels may spawn in the map, one at the South-East and one in the northern middle of the map.
The Wells are located one by the side of the Watchtower and on the South-East corner.
Enemies usually reunite near the temple in the center, near the Watchtower and on the bridges.
Story Relevance
Edit
This locations appears in several cutscenes in both of the main games.
For the first game: The introduction of the Kenobi, introduction of the Mosu, kidnapping of Kinu and third encounter with Zaji happen in this location.
For the second game, besides cutscenes this is the cited location for two story missions: The fight against Uzumushi for a Tenma Mirror, fight against Usuba for a second Tenma Mirror, second encounter with Nagi and the reveal of Kaede.
Missions
Edit
Mission Types Edit
Total Destruction/ Obliteration
Transport
Robbery
Guard
Assault
Duel
Travel
Story Missions Edit
Community content is available under
CC-BY-SA
unless otherwise noted.