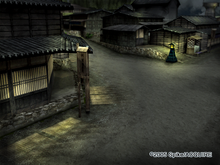 Ryonin Market is one of the mission locations in Way of the Ninja, including one story mission. This map is unavailable in any other future games. Based on the picture of the whole map of Utakata, it appears as though Ryonin Market is near the Southern end of the Province near the sea, with Negishi Pavilion to the North East (probably connecting it to Sengen Town), and Mokuami Fortress to the West.
General Information
Edit
Type: Town
Navigation: Easy
Amount of Enemies: Decent
Obstacles: Few
Total Exits: Three
Map Size: Big
Frequency of Missions: Common
Exploration
Edit
Story Relevance
Edit
Both the "We hav the wumman" (Rescue Kinu from the Kenobi) mission and cutscene happen in this location, as do the subsequent battle, death of Hebitonbo, reveal of Goh's role in the genocide of the Asuka and Kinu joining as a playable character.
The Ninja Master with the third Soul Fragment may be fought here. Also, this is the cited location for Kabuto's duel challenges.
Missions
Edit
Mission Types Edit
Total destruction
Transport
Robbery
Assault
Guard (Merchant)
Duel (Kabuto)
Story Missions Edit
"We hav the wumman" (Rescue Kinu from the Kenobi)
Community content is available under
CC-BY-SA
unless otherwise noted.