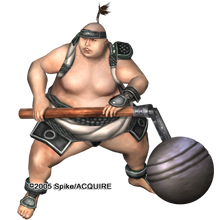 This variation of flail has more in common with a wrecking ball than any practical weapon. In real life similar weapons were created during the Crusades, like the morning star, which were designed to crush armor, weapons and helmets, and use momentum to increase damage. But the ball end of these weapons was not bigger than the size of a softball; in fiction however it can reach the size of the wielder's head or more, and is usually a display of the wielder's brute force.
In Gameplay
Edit
It's the main weapon of Uzumushi during Way of the Ninja and Tales of the Ninja. In gameplay is not much different from the mace he would adopt later as his weapon of choice, as he swings the weapon's end to strike or jump and land on the ball end to crush enemies under him. While his attacks with this weapon are slow, they can cause a lot of damage, and any strike will be staggering if blocked.
Community content is available under
CC-BY-SA
unless otherwise noted.