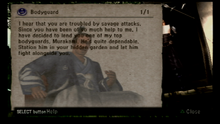 Arrow messages
or
mission scrolls
are how information arrives at the player delivered by an unnamed delivery person.
person.
Overview
Edit
Arrow messages are how the player interacts with the outside world when not in a mission.
Shinobido: Way of the Ninja
Edit
The Mission Scroll List is where players can interact with arrow messages, they are sorted into 4 tabs; Missions, Letters, Results and Advice. The missions tab is where players can read and accept missions. Letters are texts with random topics, letters with golden text have cutscene attached. Results show how the player performed on previous missions and advise shows tutorials and tips.
Mission - Letters - Results - Advice
Shinobido: Revenge of Zen
Edit
Community content is available under
CC-BY-SA
unless otherwise noted.